Contact Us
| Home Page |
Back Issues
| SUBSCRIBE FREE |
A Few Featured Breaking American Indian News Stories:
The Fight Is Not Over, Serious Crimes Have Been
Committed Against The American People!
Stop Tribal Disenrollment:
Indian Country simply cannot afford any additional trauma
CTCA (Chairman Bo Mazzetti) Writes Three Letters to BIA and Treasury on Behalf of California Indians Statewide: $8B Set-aside

Corona Virus COVID-19 Information for American Indians

CLICK to access 2020census.gov for specific TRIBAL RESOURCES: LOCAL CENSUS SUPPORT, MATERIALS FOR TRIBAL GOVERNMENTS, FACT SHEETS, THE RACE QUESTION, 2020 SNAPSHOTS, MESSAGE FOR TRIBAL LEADERS, HANDOUTS AND POSTERS FOR TRIBAL MEMBERS AND URBAN NATIVE AMERICANS
CALIFORNIA'S TRIBAL NEWSPAPER
Indian Reservations: Northern | Central | Southern
Serving Tribal Governments Across the Nation!
"The American Indian Reporter" (AIR) was originally designed to serve American Indian tribal members in lower California. Our newspaper continues to be the only tribal-produced newspaper dedicated to serving the 31 Indian reservations located in Southern California with today's local and national top breaking news in Indian country, for OP-ED, community-based feature stories and niche advertising.
BREAKING AMERICAN INDIAN NEWS SOURCE
We are currently expanding our news coverage nationally to include central and northern California, as well as the 562 Native American tribes in the United States through our network of tribal websites and electronic delivery options.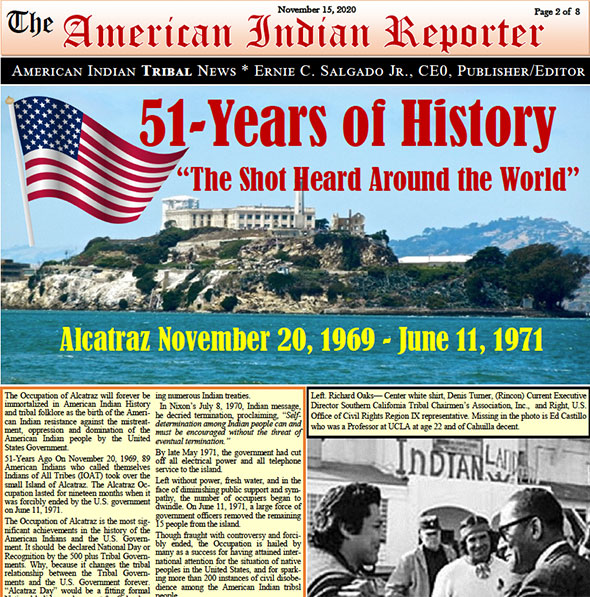 51 Years of History:
"THE SHOT HEARD AROUND THE WORLD"
Alcatraz: November 20, 1969 - June 11, 1971
The Occupation of Alcatraz will forever be immortalized in American Indian History and tribal folklore as the birth of the American Indian resistance against the mistreatment, oppression and domination of the American Indian people by the United States Government.
Fifty-One Years Ago On November 20, 1969, eighty-nine American Indians who called themselves Indians of All Tribes (IOAT) took over the small Island of Alcatraz.
The Alcatraz Occupation lasted for nineteen months when it was forcibly ended by the U.S. Government on June 11, 1971.
The Occupation of Alcatraz is the most significant achievement in the history of the American Indians and the U.S. Government.
It should be declared National Day or Recognition by the 500 plus Tribal Governments.
Why, because it forever changed the tribal relationship between Tribal Governments and the U.S. Government...

WE WANT YOUR NEWS AND PARTICIPATION
The American Indian Reporter leaders actively seek to strengthen tribal voices and assist the next generation of Native American writers, leaders, photographers, social media correspondents and indigenous rights activists through bona fide publishing opportunities in professional print media and Web publishing.
If you have a news tip, a story idea, public notice or opinion letter to publish - if you want to get involved with our tribal publications or just want to leave us a comment - please contact our publisher directly: Ernie C. Salgado Jr. (Soboba tribal member).
The Fight Is Not Over, Serious Crimes Have Been Committed Against The American People!
Source: Danney Ball, Hemet CA Facebook Post November 4, 2020. Edited by AIR
Natural News) Trump won the election last night, taking Georgia, Pennsylvania, Michigan, Wisconsin and North Carolina, among anchor states like Florida and Texas.
As TGP reports:
In Pennsylvania Trump was ahead by nearly 700,000 votes.
In Michigan Trump was ahead by over 300,000 votes.
In Wisconsin Trump was ahead by 120,000 votes.
In Georgia thousands of ballots seem to have appear as well.
But in the middle of the night Democrats went to work stealing the election by fabricating fake voting numbers in Michigan and Wisconsin.
To carry out the fraud, the Dems shut down vote reporting until 3:30 am, and then magically out of nowhere, Biden jumped up 200,000 votes without a single vote for Trump....
California Tribal Chairpersons Association, Inc.
CTCA LATEST BREAKING NEWS:

"The mission of the CTCA is to promote unity and strength by advocating for all California Indian people. As my father taught me, it is important to improve the lives for future generations and to pursue a path that younger tribal leaders can follow, like our tribal elders did for us," Mazzetti said.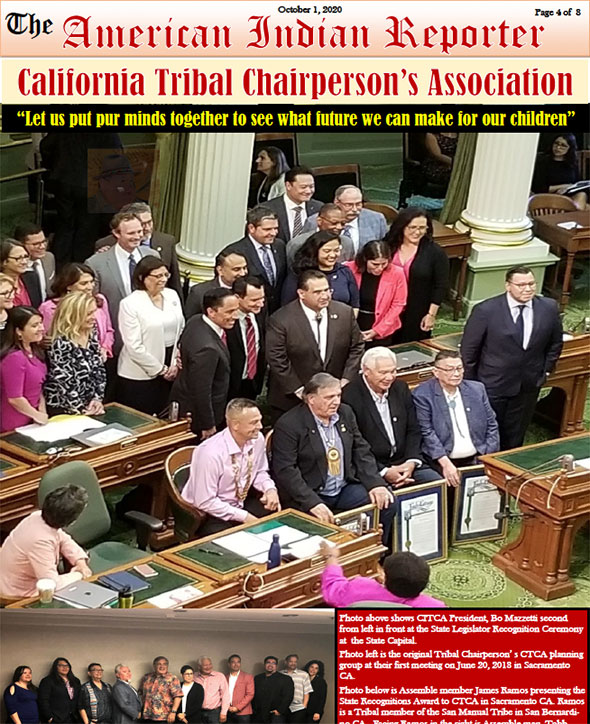 CALIFORNIA TRIBAL CHAIRPERSON'S ASSOCIATION (CTCA) writes three letters to BIA and Treasury for $8 Billion earmark on behalf of California Indians statewide
$8,000,000,000 set aside for Native Americans


Bo Mazzetti
California Tribal Chairpersons' Association


READ THE FULL THREE ORIGINAL CTCA LETTERS BY BO MAZZETTI (download the original PDFs on LETTERS CTCA link)

CALIF Tribes Establish New Executive Council Uniting Southern, Central, Northern Reservations
by Ernie C. Salgado Jr., Publisher
The American Indian Reporter
SACRAMENTO, CA - On Tuesday, April 9, 2019, the Southern California Tribal Chairmen's Association, Central California Tribal Chairpersons' Association and the Northern California Tribal Chairpersons' Association joined forces to formally establish the California Tribal Chairpersons' Association (CTCA), a state-wide organization established to collectively address critical issues facing Tribes in California ... READ THE FULL HISTORIC CALIFORNIA TRIBAL CHAIRPERSONS' ASSOCIATION STORY.
The CTCA Board of Directors consist of one representative from each of the member tribes. The six-member Executive Council is composed of two representatives from the three geographical areas identified as Southern, Central, Northern.
SIX-MEMBER COUNCIL:

Bo Mazzetti, Chairman of Rincon Band of Luiseño Band of Indians was elected Chairman of the CTCA.

Michael Hunter, Tribal Chairman of the Coyote Valley Band of Pomo Indians was elected Vice Chairman of CTCA.

Garth Sundberg, Tribal Chairman of the Trinidad Rancheria was elected Treasurer of the CTCA.

Erica M. Pinto, Tribal Chairwoman of the Jamul Indian Village of California was elected Secretary.

Kevin Day, Tribal Chairman of Tuolumne Band of Me-Wuk Indians was elected Member at Large of the CTCA.

Dale Miller, Tribal Chairman of Elk Valley Rancheria was elected Member at Large of the CTCA.

Denis Turner, Executive Director of the Southern California Tribal Chairmen's Association, Inc. SCTCA, provided the organization with expertise on the development of organizational document and in-service training.
STOP TRIBAL DISENROLLMENT: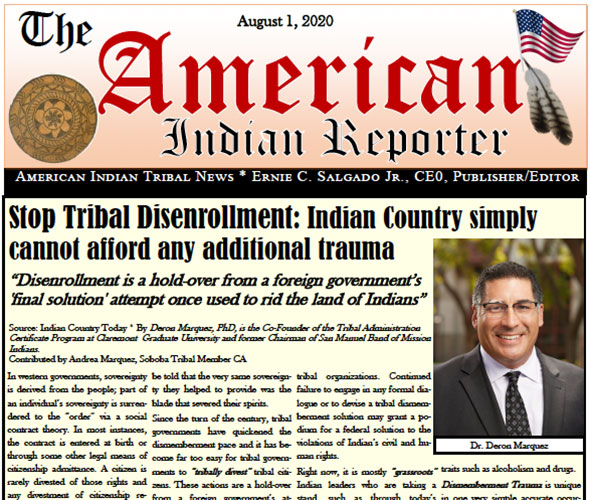 Stop Tribal Disenrollment: Indian Country simply cannot afford any additional trauma
"Disenrollment is a hold-over from a foreign government's 'final solution' attempt once used to rid the land of Indians."
Source: Indian Country Today; by Deron Marquez, PhD, he is the Co-Founder of the Tribal Administration Certificate Program at Claremont Graduate University and former Chairman of San Manuel Band of Mission Indians.
In western governments, sovereignty is derived from the people; part of an individual's sovereignty is surrendered to the "order" via a social contract theory. In most instances, the contract is entered at birth or through some other legal means of citizenship admittance. A citizen is rarely divested of those rights and any divestment of citizenship requires heightened proof and due process.
In Indian Country, an individual typically has to petition for citizenship (usually at birth and sometimes later in life) and it's not an automatic process. Once "enrolled" into the tribe, a set of rights and duties falls upon the individual as defined by their tribal nation. Too many Indians have upheld these obligations over the course of many years, only to be told they no longer belong to their tribal community... READ THE SOUTHERN CALIFORNIA TRIBAL NEWS ARTICLE
WE WANT YOUR NEWS!
Please contact us to submit your reservation news tips, story ideas, articles, photographs, OP-ED letters to the editor, open letters to the American Indian community...
Our Native American newspaper serves the thirty one Southern California Indian reservations and their tribal members:
Agua Caliente Band of Cahuilla Indians
Augustine Band of Cahuilla Indians
Barona Band of Mission Indians
Cabazon Band of Mission Indians
Cahuilla Band of Cahuilla Mission Indians
Campo Band of Kumeyaay Indians
Chemehuevi Indian Tribe
Ewiiaapaayp Band of Kumeyaay Indians
Iipay Kumeyaay Nation of Santa Ysabel
Inaja-Cosmit Band of Kumeyaay Indians
Jamul Indian Village
La Jolla Band of Luiseno Indians
La Posta Band of Kumeyaay Indians
Los Coyotes Band of Cahuilla Indians
Manzanita Band of Kumeyaay Indians
Mesa Grande Band of Mission Indians
Morongo Band of Mission Indians
Pala Band of Mission Indians
Pauma Band of Luiseno Indians
Pechanga Band of Luiseno Indians
Ramona Band of Cahuilla
Rincon Band of Luiseño Indians
San Manuel Band of Mission Indians
San Pasqual Band of Mission Indians
Santa Rosa Band of Cahuilla Indians
Santa Ynez Band of Chumash Indians
Soboba Band of Luiseno Indians
Sycuan Band of the Kumeyaay Nation
Torres-Martinez Desert Cahuilla Indians
Twenty-Nine Palms Band of Indians of California
Viejas Band of Kumeyaay Indians
FULL-COLOR TRIBAL NEWSPAPER
MONTHLY CIRCULATION: 10,000 printed, unlimited electronic downloads
PRINTED COPIES MAILED OUT MONTHLY TO EVERY TRIBAL OFFICE ACROSS THE UNITED STATES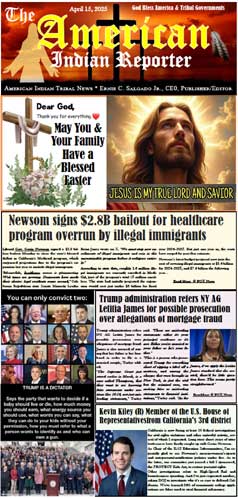 Our monthly tribal community newspaper is printed in full color and trimmed to 11x22 inches. It includes up to 32 pages and specializes in interesting tribal commentary and professional journalism at its grass roots.
Our delivery services offer subscribers and participating tribes with options to automatically distribute printed papers by U.S. Mail to their tribal members, homes and businesses world wide.
Please CONTACT US for more information.
Please SUBSCRIBE to our news service.
Please read our DISCLAIMER & USER AGREEMENT*.
The American Indian Reporter is based strictly on my humble opinion of the numerous tribal matters and issues. It is not intended to represent the views or positions of any American Indian Tribal Government, American Indian organization, community organization or private-sector sponsor of the American Indian Reporter.
The primary purpose of this newspaper is to provide information to the American Indian population and general public on American Indian affairs at the local, state and national levels.
Any reproduction or posting of any data herein in any form is strictly prohibited unless authorized or used for educational purposes. Violators will be subject to us creating an effigy of you and stick it with pins and needles.
Please review the binding LEGAL AGREEMENT that governs your use, storage and release of this website's content.